06 March 2011
This event was held on Tuesday 6th March 2012 at the Corinthia Palace Hotel & Spa, Balzan,

The aim of this information session is to provide the relevant stakeholders in Malta with a better understanding of the requirements stemming from the latest EU Energy Label legislation for different types of household appliances that came into effect recently.
This event is being organised in collaboration with the Malta Competition and Consumer Affairs Authority (MCCAA) and the General Retailers and Traders Union (GRTU).

The Come On Labels project is co-funded by the European Commission under the Intelligent Energy Europe Programme - http://www.come-on-labels.eu
Below you can find the videos of the talks given.

The Technical Regulations Division within the Malta Competition and Consumer Affairs Authority.
(Pdf of presentation)
Ing. Anthony Camilleri, Director General-Technical Regulations Division, MCCAA.

CE Marking – A key indicator of product compliance with EU legislation.
(Pdf of presentation)
Ing. Michael Cassar, Director - Market Surveillance Directorate, MCCAA.

The new EU Energy Labels – Regulations and Responsibilities applicable to Suppliers and Retailers in Malta.
(Pdf of presentation)
Mr. James Spiteri, Engineer - Market Surveillance Directorate - MCCAA.

The "Come On Labels" project - All for one, One for all – Energy Labels Guidance on labelling of appliances in shops.
(Pdf of presentation)
Stefan Schaa, Projects in Motion - PiM
25 May 11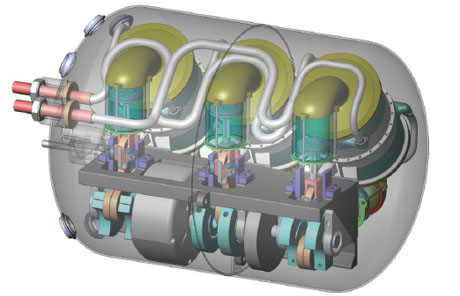 The stirling engine power conversion device operates by extracting work from a temperature differential between the hot heat exchangers in the engine and the cold heat exchangers in the engine. This temperature differential is effected by circulating a heated fluid (water, steam, heat transfer fluid, or other) into and out of the hot fluid ports of the engine, while simultaneously circulating a cooler fluid (water, glycol, or other) into and out of the cold fluid ports of the engine. The pumps to create this liquid circulation are external to the engine and provided by the system integrator. The other connections on the P3 engine are electrical sensor leads for monitoring internal temperatures and pressures, and the three electrical leads connected to the internal motor/generator integrated into the driveline of the engine. This motor/generator is used to spin up the engine on start-up, and then to produce electrical energy when the engine is running on the temperature differential. The P3 SolarHeart Engine is expected to produce a 3kWe maximum output at 300°C hot fluid temperatures and 20°C cold fluid temperatures.
25 May 11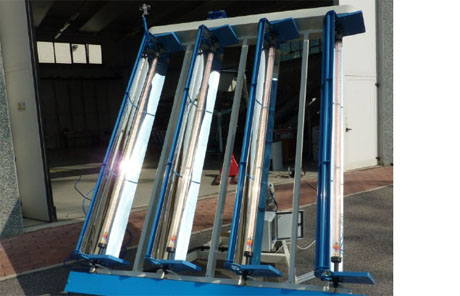 The solar collectors are made up of four modules of four parabolic mirror troughs each. The floor area of each module is 2.5 x 2.4 metres squared. The total actual active area of the collectors is 13.4 metres squared. At the focal point of each mirror a specially designed heat pipe will be used to collect the energy focused along the length of the mirror. The heat pipe (and the closed hydraulic circuit linking the modules to the Stirling engine) will be filled with special oil which will be the energy carrier. This oil will be heated to a temperature of 350 degrees C. The modules will be tracking the sun on an East West Axis. The angle of the collectors to the Vertical will be fixed.